Taking advantage of the dramatic Welsh landscape for plant phenotyping and the power of CT scanners were some of the things NordPlant learnt more about during a study visit to the UK this fall.
Part of the missions of NordPlant is to increase the connection with European researchers and organisations. In 2019, we visited INRAE's phenotyping facility in Montpellier, France. At the end of August this year, NordPlant did our final tour, visiting IBERS at University of Aberystwyth and Nottingham University. Our hosts at the two universities were John Doonan and Tony Pridmore.
We saw a number of impressive high-throughput phenotyping facilities and systems for non-invasive root phenotyping, and had the opportunity to discuss how to handle and analyse the large amounts data generated in these types of experiments.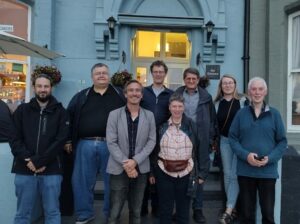 In Aberystwyth, the group visited both the indoor and the field phenotyping facilities. In greenhouses, the University of Aberystwyth has both a LemnaTec facility for large plants and a PSI system for smaller plants. Root phenotyping is always challenging, not least when it comes to affordability, but the scientists in Aberystwyth demonstrated some straightforward affordable solutions. They also stressed the need for computational scientists to be involved, not least when it comes to hyper- and multispectral imaging.
Catherine Howarth introduced us to the oat breeding program, which is one of the focus crops being bred for at IBERS. Aberystwyth today provide 80% of the winter oat cultivars being grown in the UK. In the field phenotyping, IBERS takes advantage of the dramatic Welsh landscape where different precipitation levels and temperatures vary depending on the altitude. This resembles NordPlant's work on the latitudinal differences presenting different light conditions, even though that work is done on a much larger geographical scale from South to North in the Nordic countries.
---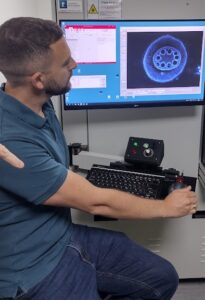 In Nottingham, Tony Pridmore welcomed us at the Jubilee campus, where the computer science department is located. He elegantly showed the impact of deep learning in being able to identify parts of different plant organs. We also had a discussion on the implementation of Plant Phenomics Information System (PHIS) to handle plant phenotyping data. NordPlant has started an initiative using PHIS to try to find joint data standards (read more here). The morning after we were guided by Darren Wells and other scientists at the Sutton campus just south of Nottingham. An impressive array of CT scanners mostly just for root phenotyping were displayed, as well as Laser Ablation Tomography to pinpoint the least phenotyped plant organ – the roots.
---